KwikTwist KT9-4RO - Tips and Tools
CLICK HERE for your choice of INSTALLATION CONNECTION FITTINGS AND FAUCET
Remineralise, alkaline and and oxygenate your pure water for maximum health benefits.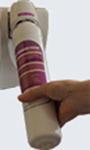 3 WAY MIXER - This is offered at a discounted price as the standard faucet option is replaced with the 3 way Mixer.
New technology and manufactured by one of the world's engineering giants, this sleek, modern design with its 'twist and lock' easy to remove colour coded cartridges is recommended for consumers who appreciate easy DIY cartridge replacement with high quality performance.
Attached to the side or back wall of your undersink cupboard, the convenient swing arm function allows easy cartridge removal. With a height of 33 cms. width of 34 cms, and depth of 11 cms, it only requires a small amount of space above and below for easy operation.
This system quietly and automatically produces pure water and shuts off when tank is full without wasting water. The unit comes complete with an 8 or 11 litre stainless steel storage tank, which incorporates a food grade bladder to store the pure water prior to use. When required, pure water is drawn from the storage tank and receives a final polish from the Purestream chemical reduction cartridge just prior to drinking, ensuring only the best tasting, pure drinking water for your good health. Includes:
Premium system tested and WGA certified to ANSI/NSF Standards 58 for performance class
No tools, no drips, no effort - Replacement of complete housing and cartridges ensures no contamination
Automatic shut-off occurs if filter cartridges are disconnected preventing water leakage.
Includes 75gpd USA made Filmtec TFC reverse osmosis membrane
Includes sediment and carbon block pre filter as well post carbon water to ensure great tasting water.
Optional Membrane Flushing Service Mode for areas of high sediment to maintain membrane purity. i.e. SA. NT, WA and Central Queensland.
Your choice of installation kit including pressure limiting valve and water faucet see options.
PATENTED
10 Year Warranty
SKU
KT9-4RO
Manufacturer
Hyundai
Description
Removes 96% - 98% FLUORIDE The Purestream 'Kwik Twist' Undersink Reverse Osmosis has a 1 litre pure water to 1-1/2 waste ratio and includes OPTIONAL Membrane Flushing Service mode for high sediment areas to maintain purity. Includes DIY easy to change cartridges including 300gpd Dow Filmtec membrane. Installed under the sink this sleek, modern design unit, quietly delivers a unlimited supply of pure sparkling Fluoride Free Water. RECOMMENDED - Additional Pi Alkaline Water Filter, to remineralise, alkaline and oxygenate water for optimum benefits. See Alkaline Water Filters OR REMINERALISER - for those wanting just minerals, including Calcium, Magnesium, Potassium, Selenium and trace minerals. YOU DO NOT NEED TO ORDER BOTH.
System Size
34W x 33H x 16D cm
Service Life
12 Months/ 3 800 Litres
Replacement Cartridges
CPKT9-4RO